Product Repositioning
Consulting | Content | Creative | Digital | Media | Social
Growth Challenge
COVID-19 brought traditional retail to an abrupt halt, disrupting the ability of brands like Totes to distribute their product and sustain their sales growth. Our challenge was to drive meaningful growth for Totes via their online, direct-to-consumer platform by reframing their product benefits in light of the emerging pandemic.
Objective
Drive increased digital sales (+YOY%) on the Totes direct to consumer platform.
Elevate product marketing to a purpose-driven platform.
Reposition brand equity of 'protection' to focus on pandemic-driven pain points.
Develop technical product story around antimicrobial properties of key product lines to drive clear and relevant point of difference.
Campaign Extension
---
Because of its strong tie to Totes' brand equity, this campaign had legs beyond the initial pandemic-focused premise. "The Shoes That Carry You Home" was highly relevant and adaptable to other seasonal moments and familiar milestones. We extended the base campaign to include high-traffic holidays, like Father's Day.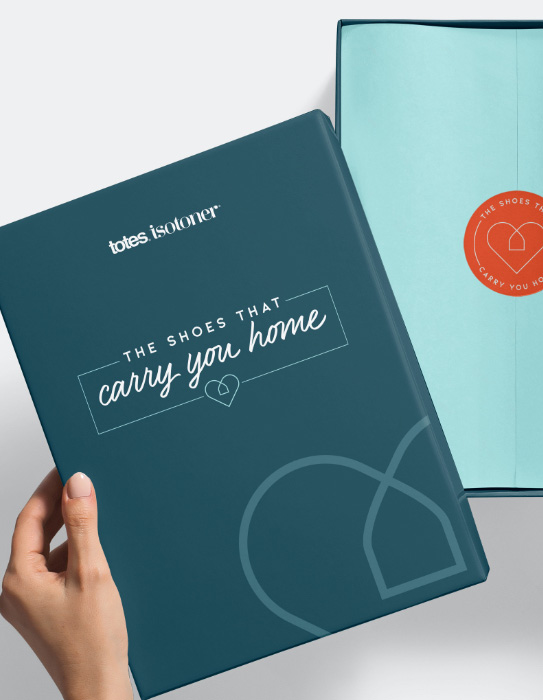 Campaign Ethos
In this era of social distancing, sanitized spacing, and stay at home orders, protection has taken on new meaning. It's grown beyond the confines of self, and circumstance, and risen above the limits of what we know or what we can see.

Far from the familiarity of our front doors, and well past the serenity of our back porch, we've extended ourselves and centered our sights to safeguard our states, and cities, and streets.

Every person, from every culture, and every place, uniting in unison with personal sacrifices that help protect neighbors and strangers alike.

That is our new world.

Protection is no longer only about you. You vs. the rain. You vs. the snow. You vs the road. It's bigger. And bolder. And more meaningful.

It's about protecting each other. The rider on the subway. The driver down the block. The nurse in the trenches. It's a communal gift and a community responsibility. And - whether it's the masks that shield them, the gloves that steady them, or,
the shoes that carry them home

, no one can help you, help them - together- like us.

421,000
Colonies of bacteria are found on the outside of a single shoe.