Karachi Monarchs
Branding | Strategy | Sports Marketing | Creative | Content | Social | PR | Digital
Growth Challenge
The Karachi Monarchs are one of the first four franchises of Baseball United, the first-ever professional baseball league in the Middle East and South Asia. We wanted to create a name and brand that honored Karachi's leadership role as Pakistan's industrial, economic, and financial capital, while also paying homage to the city's passionate love for baseball's bat and ball counterpart: cricket.
Objective
Build the Karachi Monarchs brand.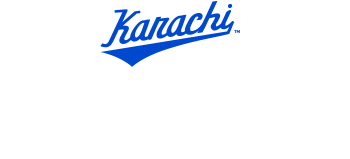 At the southern tip of the nation, nestled between the salt of the sea and the soil of our settlers, Karachi stands tall. A land that's been travelled for millennia, admired for centuries, and elevated for decades, Karachi courageously crowns both old and new. It's both regal and real, a frenetic symphony of growth, resilience, and possibility. And, through the strength of its people, it reigns - presiding over a nation that's built for something bigger. This is the home of leaders and guides. This is the throne of the Monarchs.